prof. Ing. Jiří Bíla, DrSc.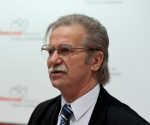 Main Specialization: Umělá inteligence, Fuzzy systémy, Expertní a datbázové systémy
Networks: Researcher ID: 6602531348 ORCID : https://orcid.org/0000-0001-5536-0714

Teaching:
Database and knowledge based systems; Artificial Intelligence and Neural networks; Analysis and design of information systems
Activity in organizations:
International Conference on Soft Computing, Years 1995-till now programme comitee; Member of Technical Committee on Artificial Intelligence and Expert Systems IASTED, (Canada), (2009 – till now);
International Symposium on Complex Systems – ISCS – Prague, 2013 – program and organization committee;
Soft Computing JournaL Mendel – publication and a editorial board – 2017 – till now. International Confernce Principia Cybernetica – 2001, 2007, 2017 – guarantor, program and organization committee;
Education:
– Ing., fakulty of mechanical engineering, CTU in Prague, 1969,
– Candidatus Scientiarius (CSc), (Technical Cybernetics), Czech Technical University in Prague, 1977
– Doctor of Sciences (DrSc.) (Technical Cybernetics), Czech Technical University in Prague,1987
– Professor (Prof.), (Technical Cybernetics), Czech Technical University in Prague,1989,
Professional CV:
• Research Engineer in Institutes: Institute for Application of Computer Technology – ÚVVTŘ (Prague) (1979), Institute for Control and management Problems in Industry – INORGA (Prague) in years 1980-1982, Institute for the Design and Construction of Machines -SVUSS (Prague – Bechovice) – in years 1979 – 1986.
• Head Manager and Solver of 7 research Tasks, Faculty of Mechanical Engineering, CTU, Prague, 1984 – 1993,
• Author and Co-author of 15 defended grant projects: GAČR, MŠMT, Copernicus, MHMP, Faculty of Mechanical Engineering, CTU Prague, 1991 – 2019,
H(WoS)= 7, H(Scopus)=9
Study stays:
Study staying in the Institute of Technology, University of Linköping, Sweden, (Application of Artificial Intelligence in CAD/CAM), 1989 – 1990.
Research and professional interests:
Modeling complex systems and analysis of emergent situations; Fuzzy modeling and control;Computer support of conceptual design
Project participation:
Project participation
Applicant and project investigator
• Koncept Prague – MHMP. Sub project D07: Control of influence of vegetation cooling effect on climate of towns (2017-2018).
Project investigator
• Technology and system for the measurement of physic and space characteristics protecting and saving living environment and for increasing of potential of energy sources. (2011 – 2014), TA01020698. (As a continuation of the project "Development of the method for the measurement of energy and matter flows in selected ecosystems. (2006 – 2011) , 2B06023" (Applicant)).
• Project investigator for working package of the project: Algorithms and instruments for distributed complex systems, ( 2017-2019), CTU in Prague.
Thesis supervisor or co-supervisor:
17 defended disertations (from 1989). At prersent time – supervisor of 3 PhD students