About project
Development of an endoscope for vitreoretinal surgery, in situations when conventional microscopic techniques provide poor posterior visualization, for example opaque anterior segment media due to injury or disease. We aimed for the 23gauge size (0,635mm) as a well-established technique with a wide range of size-matching instrumentation. We cooperate with an industrial partner. We also search for a company that would bring our endoscope to market.
Design

Our endoscope is is unique as it is based on a graded index lens (GRIN) in the probe. All other ocular endoscopes available on the market rely on fibre bundles. The number of fibres in the bundle drives the maximum resolution. The GRIN lens in our endoscope focuses light down a single path, using its full diameter so the resolution is in principle limited only by diffraction. The endoscope also delivers the operating laser through the same GRIN lens in the probe, because the image forming path and the laser path are coupled inside the handpiece.
The endoscope has a colour sub-miniature camera in the handpiece, with a monitor output. The laser is brought to the handpiece via an optical fibre. The probe tip has two variants: one for a straight view and the second for an angled view. They are interchangeable.
The endoscope was designed to comply the European Medical Device Regulation (MDR).
Endoscope concept

technical data
working distance: 3 to 8mm
field of view: 2,2 to 5,4mm
max. resolution approx. 20μm (360 000pix image)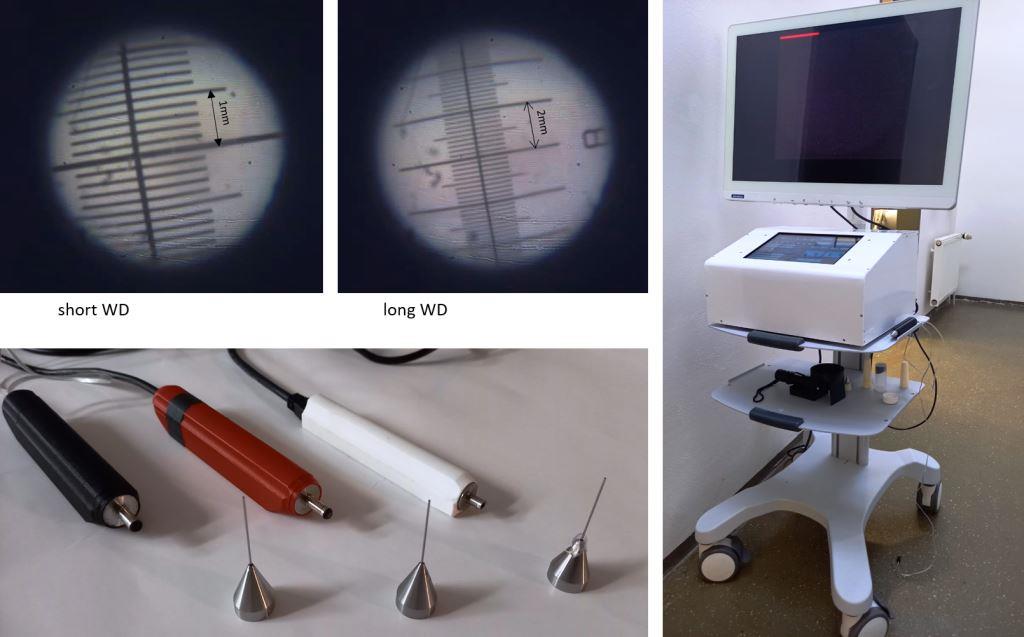 Project leaders
Ing. Josef Šmejkal – project manager, mechanical design, marketing
Ing. Bc. Šárka Němcová, Ph.D. – optical design, testing, MDR
Funding
grant MPO CZ.01.1.02/0.0/0.0/16_084/0010281
Master's and doctoral students also cooperated on this project.